Sabato 23 aprile 2022
20:30
a cura di Enrico Camporesi
Ingresso gratuito fino a esaurimento posti
Quasi una fantasia
Stereoscopie (alla fine del diciannovesimo secolo si sarebbe detto: "oggetti impalpabili nello spazio"), catene di montaggio animate, una specie di videogioco. Alcuni momenti fantasmatici che compongono una possibile storia istituzionale della fabbrica dei sogni del secolo scorso, l'industria cinematografica, dalla sua età aurea fino all'orizzonte digitale e burocratico contemporaneo.
Almost a Fantasy
Stereoscopies (at the end of the nineteenth century they were called: "intangible objects in space"), animated assembly lines, a sort of videogame. Some phantasmatic moments that constitute a possible institutional history of the past century's dream factory, the moving picture industry, from its golden age to its digital and bureaucratic contemporary horizon.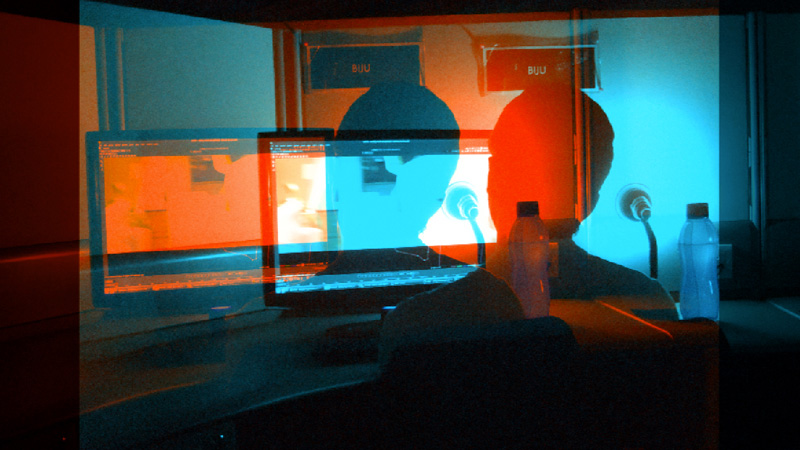 CURTAINS
Lucy Raven,USA 2014, HD anaglifico, 50 min. (looped)
Concepito come un album fotografico, da sfogliare indossando occhiali anaglifi, Curtains si concentra sulla laboriosa pratica della produzione di effetti speciali digitali. Le catene di montaggio dell'industria cinematografica sono diventate globali dimostrando che "post-produzione" non significa necessariamente "postfordista".
Conceived as a photo album, to leaf through while wearing anaglyph glasses, Curtains focuses on the labor-intensive practice of producing digital special effects. The movie industry assembly lines have become global demonstrating that "post-production" does not necessarily mean "post-Fordist".
CARTOON FACTORY
Dave & Max Fleischer, USA 1924, 35mm > 16mm, 8 min.
Koko the Clown, the character coming out of inkwell of his creator Max Fleischer, embarks in a self-reflexive adventure, touching upon animation and its mechanics.
Koko il Clown, il personaggio uscito dal calamaio del suo creatore Max Fleischer, si imbarca in un'avventura autoriflessiva, toccando l'animazione e le sue meccaniche.
A NEW FILM BY
Andrew Norman Wilson, USA 2022, HD, 18 min.
A background character in the movie industry becomes the protagonist of a fictional account nurtured by conspiracy theories.
"For a long time, I thought narrative cinema felt exhausted. Video art—especially 3D CGI—seemed like an open frontier. But I've realized a potential in what could be called a bodily narrative cinema that seems fruitful to explore." (Andrew Norman Wilson interviewed by Jordan Cronk, Filmmaker Magazine, 2021).
Un personaggio di sfondo dell'industria cinematografica diventa il protagonista di un racconto fittizio alimentato da teorie di cospirazione.
"Per molto tempo ho pensato che il cinema narrativo si fosse esaurito. La videoarte — specialmente la CGI 3D — sembrava una frontiera aperta. Ma mi sono reso conto del potenziale di ciò che si potrebbe definire un cinema narrativo corporeo che sembra fertile da esplorare." (Andrew Norman Wilson intervistato da Jordan Cronk, Filmmaker Magazine, 2021)